This post isn't really about rainbow cupcakes. There is a recipe at the end, of course. But, first.
On Friday, the Supreme Court of the United States granted same sex couples the right to marry. Instead of paraphrasing Associate Justice Anthony Kennedy's written opinion on the matter, here it is:
No union is more profound than marriage, for it embodies the highest ideals of love, fidelity, devotion, sacrifice, and family. In forming a marital union, two people become something greater than once they were. As some of the petitioners in these cases demonstrate, marriage embodies a love that may endure even past death. It would misunderstand these men and women to say they disrespect the idea of marriage. Their plea is that they do respect it, respect it so deeply that they seek to find its fulfillment for themselves. Their hope is not to be condemned to live in loneliness, excluded from one of civilization's oldest institutions. They ask for equal dignity in the eyes of the law. The Constitution grants them that right. The judgment of the Court of Appeals for the sixth Circuit is reversed.
It is so ordered.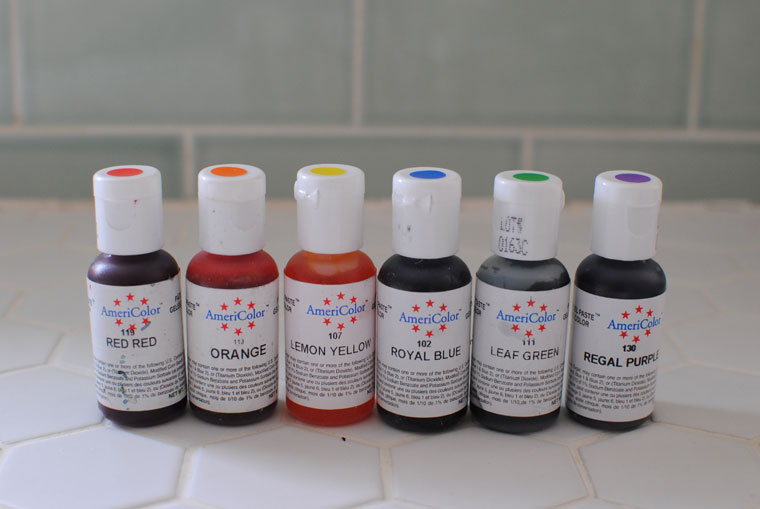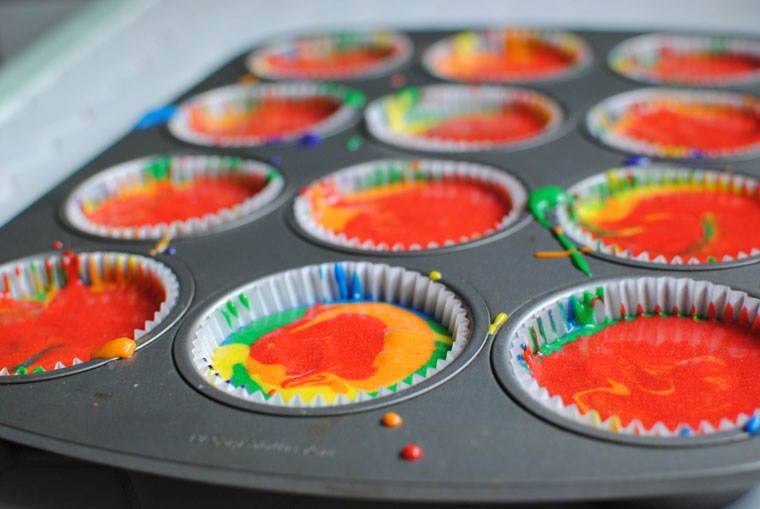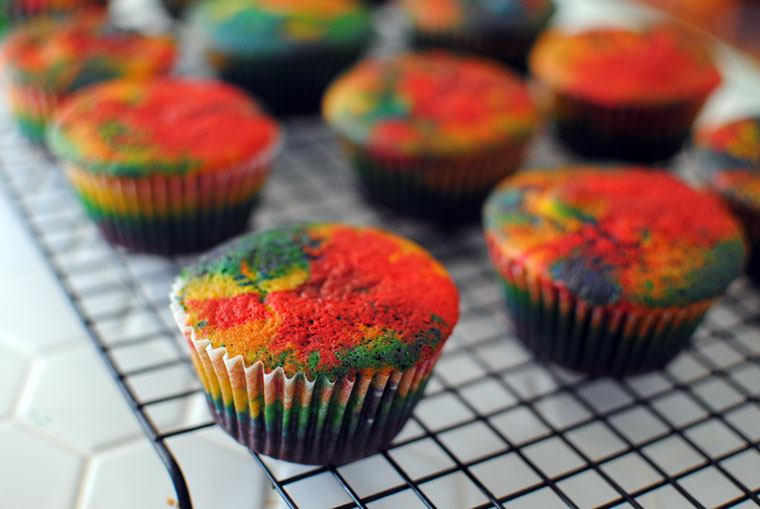 And with that, near the end of Pride Month, decades of work towards this goal finally came to fruition. Social media exploded with rainbows and exuberance. The #LoveWins dominated Instagram. And, personally, I started wearing this pride heart I've had since I was a teenager and haven't taken it off yet.
In honor of Friday's SCOTUS ruling, I made rainbow cupcakes for a friend's rooftop barbecue in downtown Los Angeles. At the barbecue, I caught up with people I hadn't seen in years, learned the names of some French New Wave filmmakers I really should check out, admired an ominous grey sky, and enjoyed the bacon explosion. Everything was great…except for when Drew wasn't sure if he was going to give us trichinosis because the explosion wasn't cooked enough. So it went on for another 30. If you haven't had a bacon explosion, you really must at some point and you don't need the sauces the recipe calls for. I mean, it's it's bacon wrapped in sausage wrapped in bacon. It's plenty good on its own.
Getting back to the cupcakes…the trick to making rainbow cupcakes that have defined layers is to only add a little bit of batter of each color. After you add a color, use a spoon to spread it until it completely covers the previous color. For instance, when you add the blue on top of the purple, spread the blue so it touches the edges of the liner and you can't see the purple. Then move on to the next color. The process is quite time consuming, but worth it. If you look at the tops, you'll notice I got a little lazy at the end.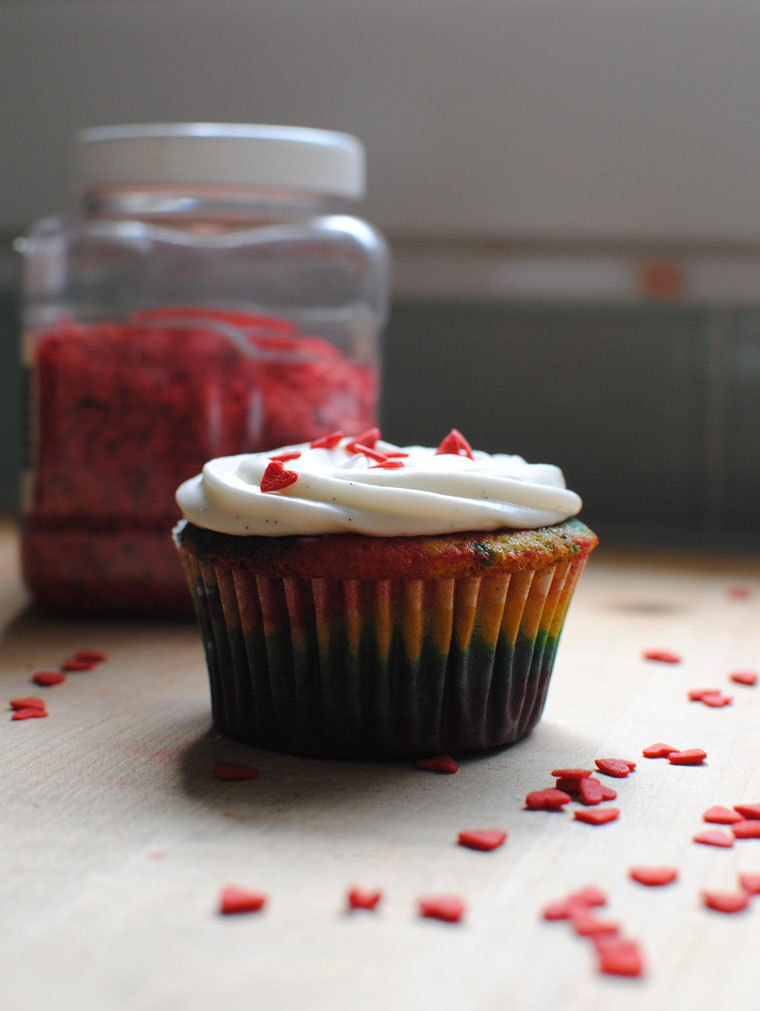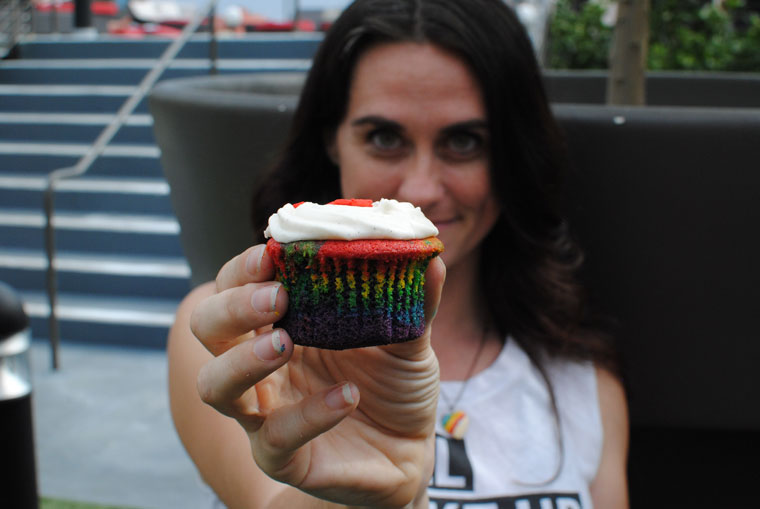 Rainbow Cupcakes (Vanilla)
Ingredients:
1 vanilla bean
1 cup whole milk
1 cup sugar
1/2 cup unsalted butter, room temperature
2 large eggs, room temperature
1 tsp vanilla
6 ounces sour cream
7.5 ounces cake flour, sifted
1 tsp. baking soda
1.5 tsp. baking powder
1/2 tsp. kosher salt
Preparation:
1. Pour milk into small nonstick saucepan. Scrape in seeds of 1 vanilla bean and place bean in the pan as well.
2. Bring to boil over medium heat. Remove from heat, place airtight lid on top, and place in the refrigerator for 30 minutes.
3. Preheat oven to 350° F.
4. In a large bowl, combine the flour, baking soda, baking powder, and salt. Set aside.
4. In a stand mixer, blend together sugar and butter on medium speed until soft and fluffy (about 3 minutes).
5. Add eggs, one at a time, while mixer is on medium. Allow 30 seconds in between each addition.
6. Add vanilla and, once the vanilla is combined, stop the mixer.
7. In a medium bowl, mix together milk (remove vanilla bean first), and sour cream.
8. Turn the mixer speed to low and add 1/3 of the flour mixture. Add 1/2 of the milk mixture. Repeat until all ingredients are in the mixing bowl. Scrape down the sides and make sure all is evenly mixed.
9. Separate the batter evenly into 6 small bowls. Using a disher/ice cream scooper makes this much easier.
10. Add dye to each bowl and use a spoon to stir gently until the color is evenly distributed. Use this same spoon to fill the cupcakes liners with that color.
11. Layer the colors, starting with purple, then blue, then green, then yellow, then orange, then red so you end up with ROYGBIV (minus indigo).
12. Bake for 15-18 minutes or until cupcake top springs back when gently pushed.
13. Let cool for 10-15 minutes on wire rack, then remove from pan. Let cool completely before frosting.
The dyes I used were Americolor's Super Red, Orange, Lemon Yellow, Leaf Green, Sky Blue, and Regal Purple.
Vanilla Buttercream
I can't really add the frosting measurements. I just sort of wing it almost every time. I know what I want it to taste like – soft but not runny, not too sweet, and full of vanilla flavor. But, I don't measure. The ingredients include:
1/2 cup Butter, room temperature
Confectioners sugar
Vanilla extract
Vanilla bean seeds
Whole Milk
Preparation:
1. Blend butter and 2 cups of sugar on high until it is has a doughlike consistency.
2. Add milk, 1 tbsp at a time.
3. Add sugar, 1/2 cup at a time to increase the mass of the frosting. Add milk to make it smooth again. Go back and forth until you obtain the proper consistency.
4. When the proper consistency is reached, add extract to taste and scrape in vanilla bean seeds. Blend until fully combined.
Have questions? Ask me in the comments! And use the #SecretMarmalade so I can see your creations!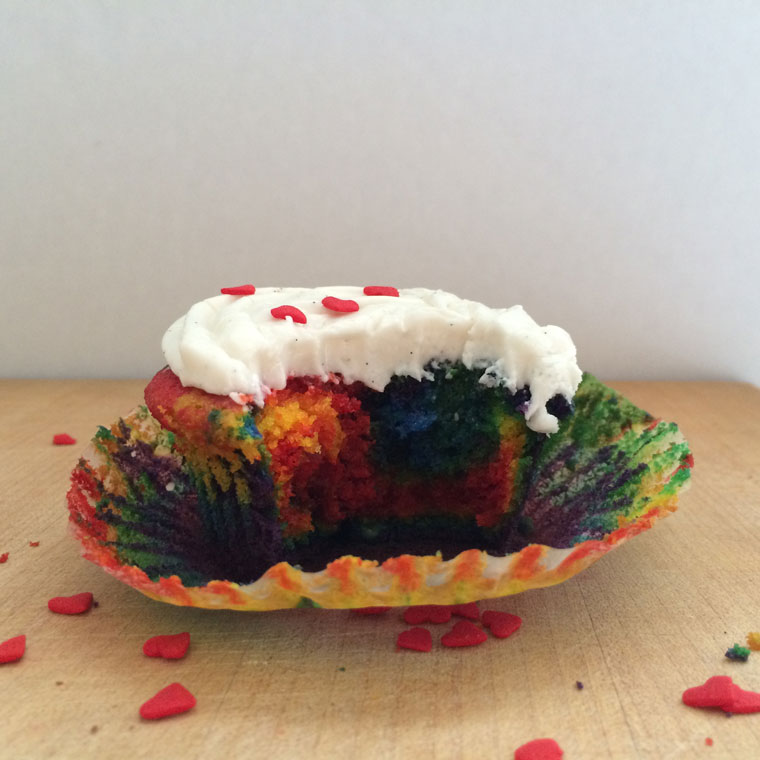 And here are a few of the incredible bacon explosion. Recipe here.