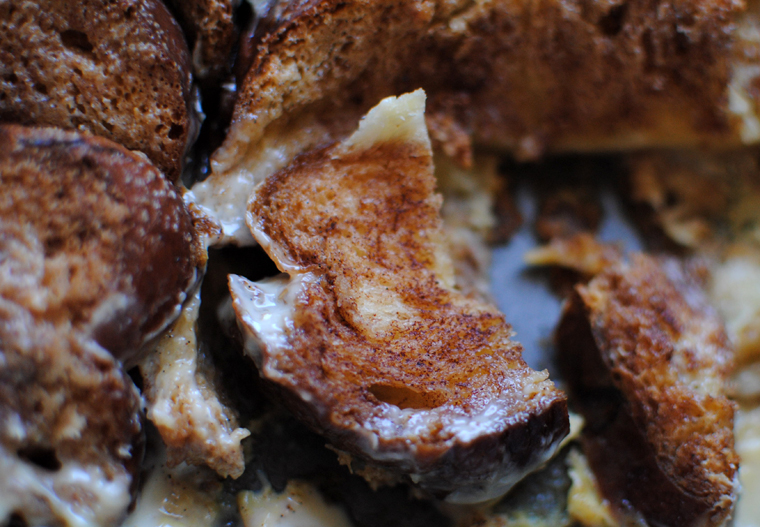 I  have an email exchange to thank for the inspiration for this particular recipe for vanilla cinnamon challah bread pudding. I've wanted to do something with challah for a long time as the eggy, doughy, braided bread has been one of my favorites since I was a kid. It just begs to be pulled apart and dipped in cinnamon or honey or eaten straight off the loaf. Don't even get me started on chocolate challah.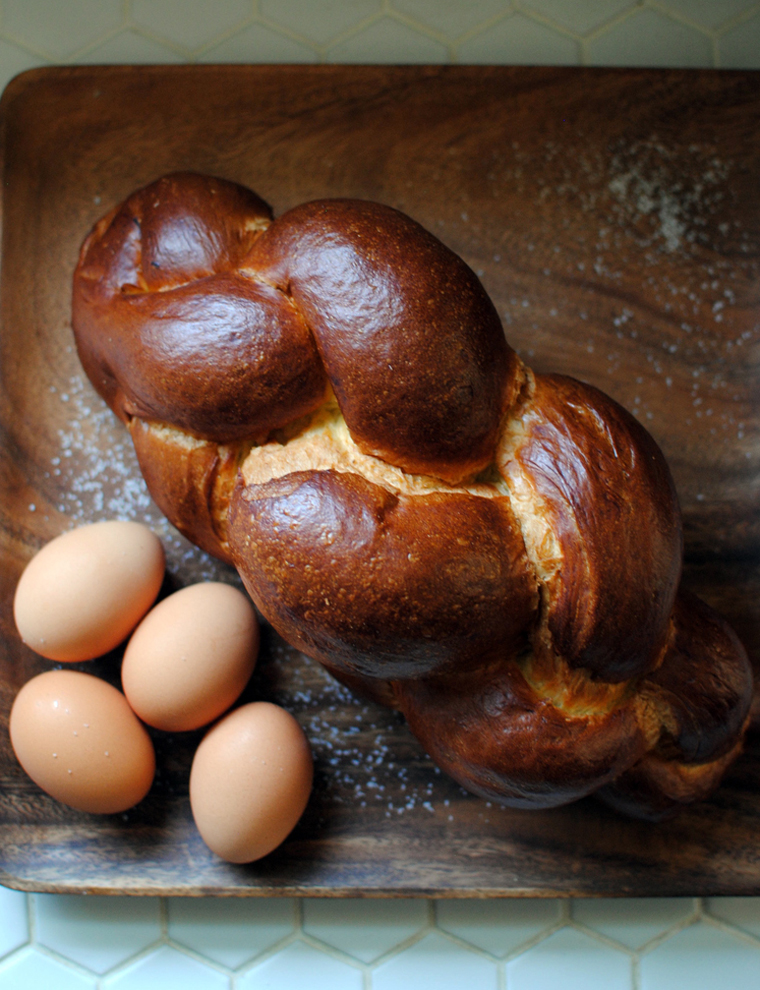 But, challah isn't only good on its own. It makes a great base for dishes that need a sturdier bread—like bread pudding! Which was precisely what I wanted to make. But, first I had to learn how to make it, as I'd never gotten around to making one before. Which seems odd, but that happens. I also haven't seen The Godfather and briefly contemplating putting it on in the background while baking. Instead, I focused on the recipe and didn't let myself get distracted by any horse heads (or kittens for that matter, despite Loki's mewing and multiple attempts to jump on the counter mid-recipe).
For the bread pudding, I wanted to create a recipe that would allow the vanilla and cinnamon to be the stars. This meant adding fresh vanilla bean seeds to the recipe and making sure to dial back the sugar. In studying other recipes, it seemed there were two schools of thought: Those that cut the bread into cubes that those that just sliced it and layered it into the baking pan. I went with the former. Other recipes called for letting the bread soak in the custard mixture for 2 hours. As I was baking this just before going to a Memorial Day BBQ, that was not going to happen unless a time machine miraculously appeared in my living room.
The basics of bread pudding:
1. Cut up your bread.
2. Combine eggs, milk, fat (butter or heavy cream), vanilla, and perhaps a pinch of salt.
3. Pour this mixture over the bread.
4. Bake.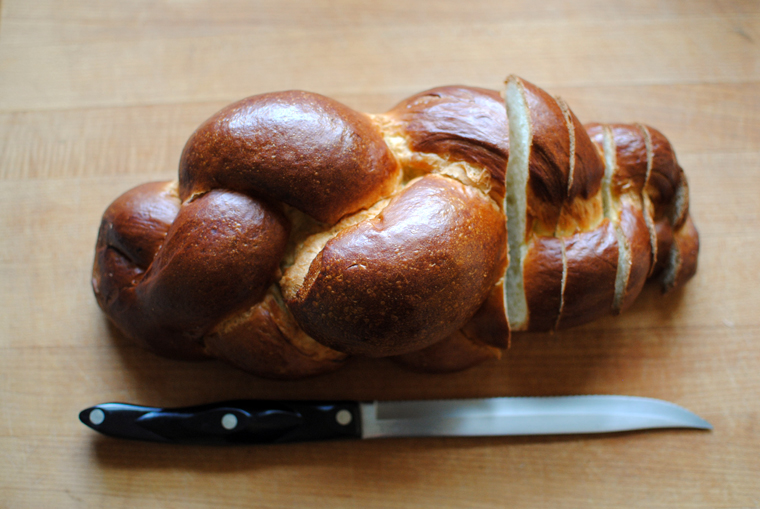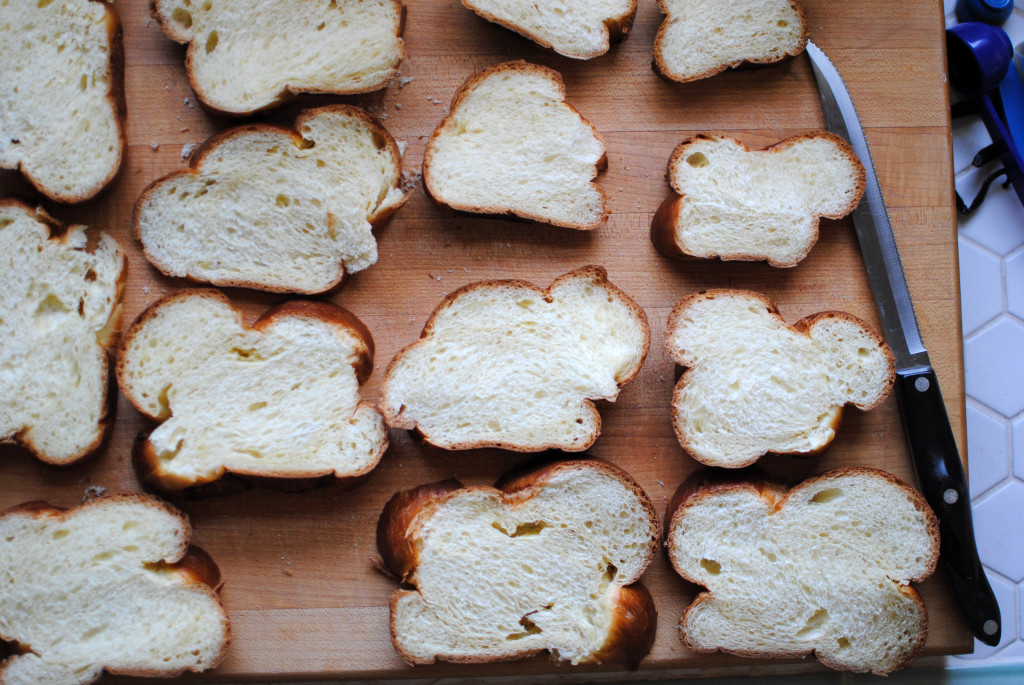 In the process of learning the basics, I found this Polish recipe. It called for the standard four eggs, but instead of using four whole eggs, it used two whole eggs and two egg yolks and suggested beating them with the sugar until they were light and fluffy. After which, you'd add the hot milk and then heat up that mixture on the stove until it resembled a creme anglaise. I was pretty nodding in dizzy-headed agreement after reading this. Essentially, the recipe called for making a rich custard. The recipe also called for pre-baking the bread with cinnamon, brown sugar, and butter, which allowed me to skip over the "wait until the challah is a little bit stale" step. And, since there still was no time machine, that seemed wise.
The final recipe is below, but I would be amiss without mentioning that while I had written the heavy cream into the recipe I'd be baking, I had forgotten to add it until the bread pudding was nearly done! So, I rushed into the kitchen, flung open the fridge, opened the oven, and poured about 3/4 of a cup of heavy cream over the bread pudding, closed the oven, and hoped for the best. The result? The late addition of the heavy cream gave the recipe a creamy richness I don't think it would have had otherwise.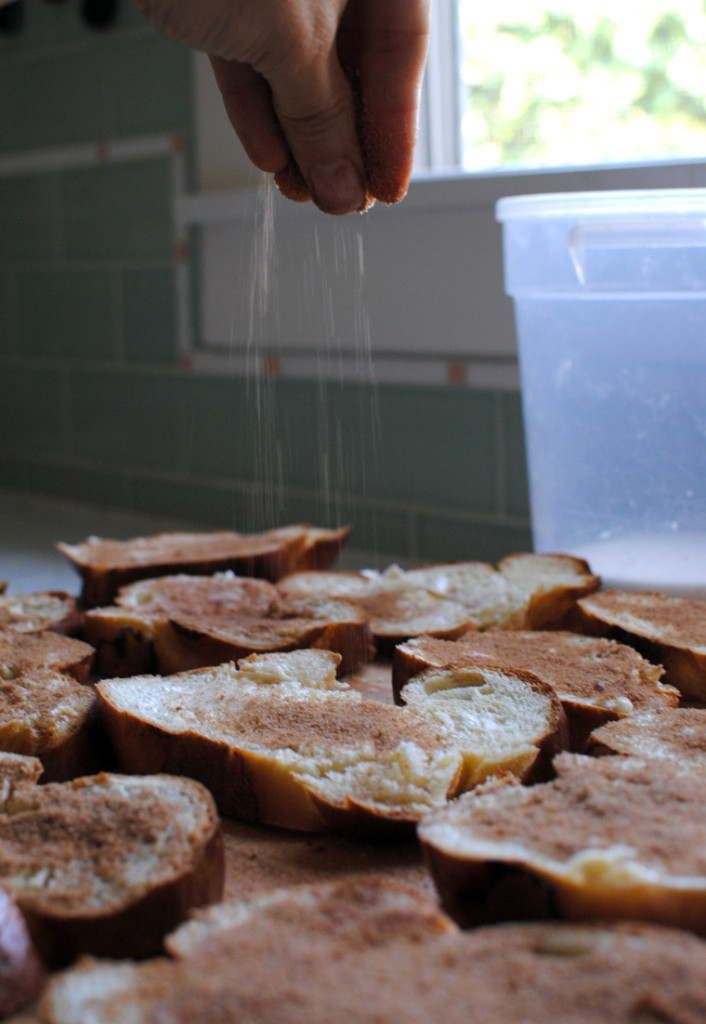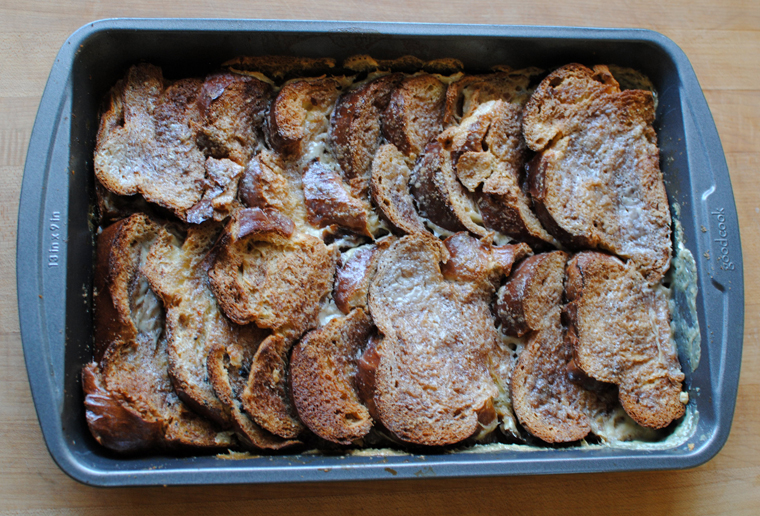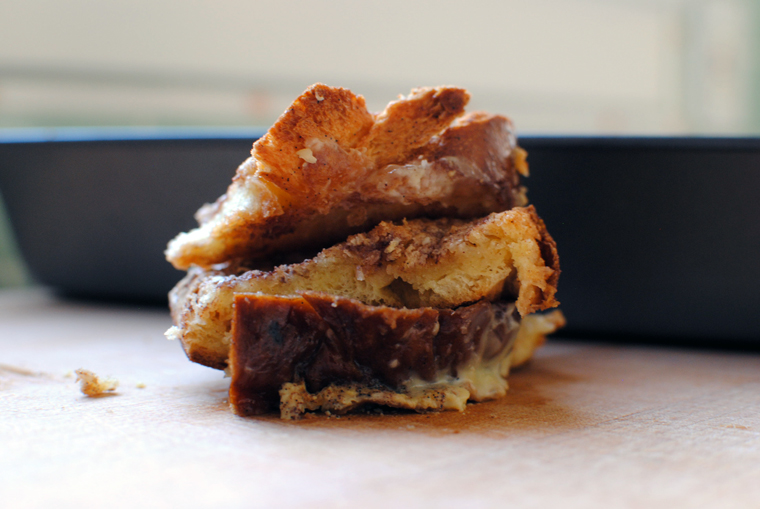 Vanilla Cinnamon Challah Bread Pudding
(Serves 12)
Ingredients
4 Tbsp. brown sugar, plus more for sprinkling
1 tsp. cinnamon
1 loaf challah bread
3 Tbsp. butter, room temperature
2 large eggs
2 large egg yolks
½ cup sugar
1 tsp vanilla
2 cups whole milk, warmed
½ vanilla bean
1 pinch salt
¾ cup heavy cream
Preparation
1. Preheat oven to 350.
2. Mix together brown sugar and 1 tsp. cinnamon in small bowl.
3. Cut challah into slices, brush with butter, sprinkle brown sugar mixture on top.
4. Bake for 10-15 minutes on baking sheet until just slightly firm.
5. Butter 9×13" baking pan and place challah in pan.
6. Beat eggs, egg yolks, and sugar in stand mixer until light and fluffy (3-5 minutes). Add vanilla.
7. Place milk in medium saucepan and scrape in the seeds of the vanilla bean. Bring to near boil, then add milk slowly to egg mixture, stirring constantly with a wooden spoon so as not to cook the eggs.
8. Pour mixture back into medium saucepan and place over low heat. Stir with wooden spoon until slightly thickened.
9. Pour cream on top of bread and sprinkle with brown sugar.
10. Bake for 16-21 minutes at 350. Pull it out of the oven, slide out the rack, pour the heavy cream on top, and return it to the oven. Let cook for another 9 minutes or until golden brown.
11. Remove from oven and let cool for a few minutes. Serve.